Hey guys, I saw this post over on Kris blog  I think that she created this post, so now I am going to doing this as well,
I will be telling you guys what I am what I am reading, physical, eBook, audio book ect.
Audiobooks Read
   Goodreads synopsis: Sixteen years ago the Kingdom of Winter was conquered and its citizens enslaved, leaving them without magic or a monarch. Now, the Winterians' only hope for freedom is the eight survivors who managed to escape, and who have been waiting for the opportunity to steal back Winter's magic and rebuild the kingdom ever since.
Orphaned as an infant during Winter's defeat, Meira has lived her whole life as a refugee, raised by the Winterians' general, Sir. Training to be a warrior—and desperately in love with her best friend, and future king, Mather — she would do anything to help her kingdom rise to power again.
So when scouts discover the location of the ancient locket that can restore Winter's magic, Meira decides to go after it herself. Finally, she's scaling towers, fighting enemy soldiers, just as she's always dreamed she would. But the mission doesn't go as planned, and Meira soon finds herself thrust into a world of evil magic and dangerous politics – and ultimately comes to realize that her destiny is not, never has been, her own.
Audiobooks reading 
None
Physical book (s) read:
none
Physical books (s) reading
  Goodreads synopsis: With every end comes a new beginning in the fourth installment of Soman Chainani's New York Times bestselling School for Good and Evil series, Quests for Glory. Join Sophie, Agatha, Tedros, and the other students as they begin a new era in the Endless Woods—The Camelot Years—where Evers and Nevers alike must move beyond the bounds of school and into the biggest, boldest adventures of their lives.
The students at the School for Good and Evil thought they had found their final Ever After when they vanquished the malevolent School Master. Now, on their required fourth-year quests, the students face obstacles both dangerous and unpredictable, and the stakes are high: success brings eternal adoration, and failure means obscurity forever.
For their quests, Agatha and Tedros are trying to return Camelot to its former splendor as queen and king. For her quest, Dean Sophie seeks to mold Evil in her own image. But soon they all feel themselves growing more isolated and alone. When their classmates' quests plunge into chaos, however, someone must lead the charge to save them..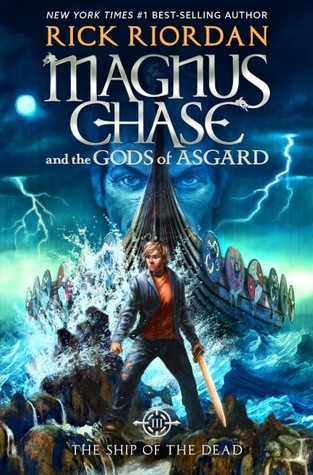 Goodreads synopsis: Magnus Chase, a once-homeless teen, is a resident of the Hotel Valhalla and one of Odin's chosen warriors. As the son of Frey, the god of summer, fertility, and health, Magnus isn't naturally inclined to fighting. But he has strong and steadfast friends, including Hearthstone the elf, Blitzen the dwarf, and Samirah the Valkyrie, and together they have achieved brave deeds, such as defeating Fenris Wolf and battling giants for Thor's hammer, Mjolnir. Now Magnus and his crew must sail to the farthest borders of Jotunheim and Niflheim in pursuit of Asgard's greatest threat. Will they succeed in their perilous journey, or is Ragnarok lurking on the horizon?
  Goodreads synopsis: In the first in Tessa Dare's captivating Castles Ever After series, a mysterious fortress is the setting for an unlikely love . . .
As the daughter of a famed author, Isolde Ophelia Goodnight grew up on tales of brave knights and fair maidens. She never doubted romance would be in her future, too. The storybooks offered endless possibilities.
And as she grew older, Izzy crossed them off. One by one by one.
Ugly duckling turned swan?
Abducted by handsome highwayman?
Rescued from drudgery by charming prince?
No, no, and… Heh.
Now Izzy's given up yearning for romance. She'll settle for a roof over her head. What fairy tales are left over for an impoverished twenty-six year-old woman who's never even been kissed?
This one.
E-Book(s) read
none
E-book(s) reading
none
Books added to my collection: 
none so far:
Hope that you guys liked this post, hoping to do more of them if this goes well…