hey guys I am doing blogtober and I know I am later for this because I was out of town and yes I will have posts about my little vaction on here as well. So don't worry you guys will see what I did the last few days of September.
Here is what I read in September which is quick a few books.
Goodreads synopsis:
In the follow-up to Abbi Glines's #1 New York Times bestseller Until Friday Night—three teens from a small southern town are stuck in a dramatic love triangle.
Willa can't erase the bad decisions of her past that led her down the path she's on now. But she can fight for forgiveness from her family. And she can protect herself by refusing to let anyone else get close to her.
High school quarterback and town golden boy Brady used to be the best of friends with Willa—she even had a crush on him when they were kids. But that's all changed now: her life choices have made her a different person from the girl he used to know.
Gunner used to be friends with Willa and Brady, too. He too is larger than life and a high school football star—not to mention that his family basically owns the town of Lawton. He loves his life, and doesn't care about anyone except himself. But Willa is the exception—and he understands the girl she's become in a way no one else can.
As secrets come to light and hearts are broken, these former childhood friends must face the truth about growing up and falling in love…even if it means losing each other forever.
I gave this a 4 out of 5 stars
Goodreads synopsis:
The tale is told as if it's happening once upon a dream: the lovely maiden meets her handsome prince in the woods. The story has been told many times and in many ways. But always the maiden finds out that she is a princess-a princess who has been cursed by a dark fairy to prick her finger on a spindle and fall into an eternal sleep. Though her three good fairies try to protect her, the princess succumbs to the curse. But the power of good endures, as her true love defeats the fire-breathing dragon and awakens the princess with true love's first kiss. The two live happily ever after.
And yet this is only half the story. So what of the dark fairy, Maleficent? Why does she curse the innocent princess? What led to her becoming so filled with malice, anger, and hatred? Many tales have tried to explain her motives. Here is one account, pulled down from the many passed down through the ages. It is a tale of love and betrayal, of magic and reveries. It is a tale of the Mistress of All Evil.
I also gave this book a 4 out of 5 stars
Goodreads synopsis:
It's been three months since the Winterians were freed and Spring's king, Angra, disappeared—thanks largely to the help of Cordell.
Meira just wants her people to be safe. When Cordellan debt forces the Winterians to dig their mines for payment, they unearth something powerful and possibly dangerous: Primoria's lost chasm of magic. Theron sees this find as an opportunity—with this much magic, the world can finally stand against threats like Angra. But Meira fears the danger the chasm poses—the last time the world had access to so much magic, it spawned the Decay. So when the king of Cordell orders the two on a mission across the kingdoms of Primoria to discover the chasm's secrets, Meira plans to use the trip to garner support to keep the chasm shut and Winter safe—even if it means clashing with Theron. But can she do so without endangering the people she loves?
Mather just wants to be free. The horrors inflicted on the Winterians hang fresh and raw in Januari—leaving Winter vulnerable to Cordell's growing oppression. When Meira leaves to search for allies, he decides to take Winter's security into his own hands. Can he rebuild his broken kingdom and protect them from new threats?
As the web of power and deception weaves tighter, Theron fights for magic, Mather fights for freedom—and Meira starts to wonder if she should be fighting not just for Winter, but for the world.
I gave this one a 5 out of 5 stars
Goodreads synopsis:
Welcome to Spindle Cove, where the ladies with delicate constitutions come for the sea air, and men in their prime are… nowhere to be found. Or are they?
Spindle Cove is the destination of choice for certain types of well-bred young ladies: the painfully shy, young wives disenchanted with matrimony, and young girls too enchanted with the wrong men; it is a haven for those who live there.
Victor Bramwell, the new Earl of Rycliff, knows he doesn't belong here. So far as he can tell, there's nothing in this place but spinsters… and sheep. But he has no choice, he has orders to gather a militia. It's a simple mission, made complicated by the spirited, exquisite Susanna Finch—a woman who is determined to save her personal utopia from the invasion of Bram's makeshift army.
Susanna has no use for aggravating men; Bram has sworn off interfering women. The scene is set for an epic battle… but who can be named the winner when both have so much to lose?
I gave this book a 2 out of 5 stars
Goodreads synopsis:
After eight years of waiting for Piers Brandon, the wandering Marquess of Granville, to set a wedding date, Clio Whitmore has had enough. She's inherited a castle, scraped together some pride, and made plans to break her engagement.
Not if Rafe Brandon can help it. A ruthless prizefighter and notorious rake, Rafe is determined that Clio will marry his brother—even if he has to plan the dratted wedding himself.
So how does a hardened fighter cure a reluctant bride's cold feet?
● He starts with flowers. A wedding can't have too many flowers. Or harps. Or cakes.

● He lets her know she'll make a beautiful, desirable bride—and tries not to picture her as his.

● He doesn't kiss her.

● If he kisses her, he definitely doesn't kiss her again.

● When all else fails, he puts her in a stunning gown. And vows not to be nearby when the gown comes off.

● And no matter what—he doesn't fall in disastrous, hopeless love with the one woman he can never call his own.
I gave this book a 3 out of 5 stars.
Goodreads synopsis:
When a devilish lord and a bluestocking set off on the road to ruin… time is not on their side. 
Minerva Highwood, one of Spindle Cove's confirmed spinsters, needs to be in Scotland.
Colin Sandhurst, Lord Payne, a rake of the first order, needs to be… anywhere but Spindle Cove.
These unlikely partners have one week to
• fake an elopement
• convince family and friends they're in "love"
• outrun armed robbers
• survive their worst nightmares
• travel four hundred miles without killing each other
All while sharing a very small carriage by day and an even smaller bed by night.
What they don't have time for is their growing attraction. Much less wild passion. And heaven forbid they spend precious hours baring their hearts and souls.
Suddenly one week seems like exactly enough time to find a world of trouble. And maybe… just maybe… love.
i gave this one a 3 out of 5 stars as well
Goodreads synopsis:
Losing his dream, his ultimate plan, and his future- Nash Lee never expected to be facing a life without football. One wrong move and it had all changed. Going back to school for his senior year no longer appealed to him. He'd rather not leave his house. Walking back into Lawton High School, seeing pity in everyone's eyes was just another reality in his nightmare.
Revenge wasn't a pretty thing. Tallulah Liddell had found it was rather controlling. The way you looked at life changed completely when you clung to the ugly notion. But she'd done it anyway. From the last day of her junior year when Ryker Lee had made a fat joke about her and Nash laughed with him, she'd been driven by pain. It wasn't like no one had made fun of her weight before. She was used to that. What had hurt so deeply was Nash's laughter. He'd always been the one person to notice her, include her, not treat her differently. But that one moment had changed it all. From the time she walked out of the school building to the moment she returned for her senior year Tallulah had been determined to lose weight and finally be the size her peers considered acceptable.
What she wasn't expecting on her return was to find a broken Nash Lee who no longer smiled, rarely spoke, and didn't care about anything or anyone around him. He was just existing. But the pain in his eyes she understood all too well. He was alone. He no longer fit into the perfect package.
I gave this book a 5 out of 5 stars
Goodreads synopsis:
Rhiannon Thomas's dazzling debut novel is a spellbinding reimagining of Sleeping Beauty and what happens after happily ever after.
One hundred years after falling asleep, Princess Aurora wakes up to the kiss of a handsome prince and a broken kingdom that has been dreaming of her return. All the books say that she should be living happily ever after. But as Aurora understands all too well, the truth is nothing like the fairy tale.
Her family is long dead. Her "true love" is a kind stranger. And her whole life has been planned out by political foes while she slept.
As Aurora struggles to make sense of her new world, she begins to fear that the curse has left its mark on her, a fiery and dangerous thing that might be as wicked as the witch who once ensnared her. With her wedding day drawing near, Aurora must make the ultimate decision on how to save her kingdom: marry the prince or run.
Rhiannon Thomas weaves together vivid scenes of action, romance, and gorgeous gowns to reveal a richly imagined world … and Sleeping Beauty as she's never been seen before.
(This book I DNF and i gave it a 2 out of 5 stars)
Goodreads synopsis:
A fun, romantic read, perfect for fans of Sarah Dessen and Susane Colasanti! What happens when Matt and Ella reunite one year after their breakup? Are second chances really possible?
Before Matt, Ella had a plan. Get over her ex-boyfriend and graduate high school—simple as that. But Matt—the cute, shy, bespectacled bass player—was never part of that plan. And neither was attending a party that was crashed by the cops just minutes after they arrived. Or spending an entire night saying "yes" to every crazy, fun thing they could think of.
But then Matt leaves town, breaking Ella's heart. And when he shows up a year later—wanting to relive the night that brought them together—Ella isn't sure whether Matt's worth a second chance. Or if re-creating the past can help them create a different future.
I gave this one a 3 out of 5 stars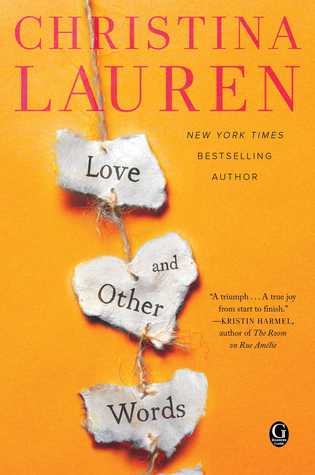 Goodreads synopsis:
Love, loss, friendship, and the betrayals of the past all collide in this first fiction novel from New York Times and #1 international bestselling author Christina Lauren (Autoboyography, Dating You / Hating You).
The story of the heart can never be unwritten.
Macy Sorensen is settling into an ambitious if emotionally tepid routine: work hard as a new pediatrics resident, plan her wedding to an older, financially secure man, keep her head down and heart tucked away.
But when she runs into Elliot Petropoulos—the first and only love of her life—the careful bubble she's constructed begins to dissolve. Once upon a time, Elliot was Macy's entire world—growing from her gangly bookish friend into the man who coaxed her heart open again after the loss of her mother…only to break it on the very night he declared his love for her.
Told in alternating timelines between Then and Now, teenage Elliot and Macy grow from friends to much more—spending weekends and lazy summers together in a house outside of San Francisco devouring books, sharing favorite words, and talking through their growing pains and triumphs. As adults, they have become strangers to one another until their chance reunion. Although their memories are obscured by the agony of what happened that night so many years ago, Elliot will come to understand the truth behind Macy's decade-long silence, and will have to overcome the past and himself to revive her faith in the possibility of an all-consuming love
I gave this one a 5 out of 5 stars
Goodreads synopsis:
Henry Page has never been in love. He fancies himself a hopeless romantic, but the slo-mo, heart palpitating, can't-eat-can't-sleep kind of love that he's been hoping for just hasn't been in the cards for him-at least not yet. Instead, he's been happy to focus on his grades, on getting into a semi-decent college and finally becoming editor of his school newspaper. Then Grace Town walks into his first period class on the third Tuesday of senior year and he knows everything's about to change.
Grace isn't who Henry pictured as his dream girl-she walks with a cane, wears oversized boys' clothes, and rarely seems to shower. But when Grace and Henry are both chosen to edit the school paper, he quickly finds himself falling for her. It's obvious there's something broken about Grace, but it seems to make her even more beautiful to Henry, and he wants nothing more than to help her put the pieces back together again. And yet, this isn't your average story of boy meets girl. Krystal Sutherland's brilliant debut is equal parts wit and heartbreak, a potent reminder of the bittersweet bliss that is first love
I gave this book a 4 out of 5 stars
Goodreads synopsis:
Nobody Owens, known to his friends as Bod, is a normal boy. He would be completely normal if he didn't live in a sprawling graveyard, being raised and educated by ghosts, with a solitary guardian who belongs to neither the world of the living nor of the dead.
There are dangers and adventures in the graveyard for a boy-an ancient Indigo Man beneath the hill, a gateway to a desert leading to an abandoned city of ghouls, the strange and terrible menace of the Sleer.
But if Bod leaves the graveyard, then he will come under attack from the man Jack–who has already killed Bod's family. . . .
Beloved master storyteller Neil Gaiman returns with a luminous new novel for the audience that embraced his "New York Times" bestselling modern classic coraline. Magical, terrifying, and filled with breathtaking adventures, the graveyard book is sure to enthrall readers of all ages.
I gave this book a 4 out of 5 stars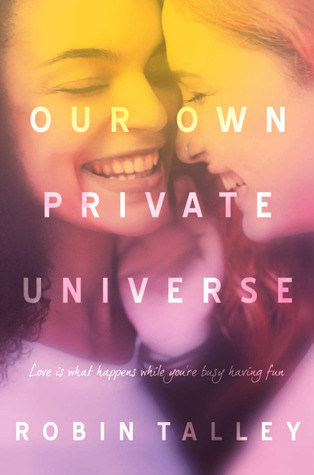 Goodreads synopsis:
Fifteen-year-old Aki Simon has a theory. And it's mostly about sex.
No, it isn't that kind of theory. Aki already knows she's bisexual—even if, until now, it's mostly been in the hypothetical sense. Aki has dated only guys so far, and her best friend, Lori, is the only person who knows she likes girls, too.
Actually, Aki's theory is that she's got only one shot at living an interesting life—and that means she's got to stop sitting around and thinking so much. It's time for her to actually do something. Or at least try.
So when Aki and Lori set off on a church youth-group trip to a small Mexican town for the summer and Aki meets Christa—slightly older, far more experienced—it seems her theory is prime for the testing.
But it's not going to be easy. For one thing, how exactly do two girls have sex, anyway? And more important, how can you tell if you're in love? It's going to be a summer of testing theories—and the result may just be love
I gave this book a 5 out of 5 stars as well.
So all together I read a total of 13 books. Out of those 13 books I DNF one book. So not too bad.
My October TBR will be up tomorrow for Blogtober day 2 hope that you guys enjoyed today's post, i know it is up a little late but I am sorry about that like I said I was out of town so the rest of the month should be just fine. But if not I will let you guys know