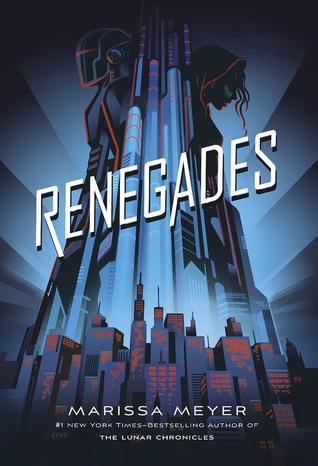 Title: Renegades by Marissa Meyer
Rating: 5 out of 5 stars
Release date: April 5th, 2018
Synopsis: Secret Identities. Extraordinary Powers. She wants vengeance. He wants justice.
The Renegades are a syndicate of prodigies — humans with extraordinary abilities — who emerged from the ruins of a crumbled society and established peace and order where chaos reigned. As champions of justice, they remain a symbol of hope and courage to everyone… except the villains they once overthrew.
Nova has a reason to hate the Renegades, and she is on a mission for vengeance. As she gets closer to her target, she meets Adrian, a Renegade boy who believes in justice — and in Nova. But Nova's allegiance is to a villain who has the power to end them both.
My Review: Who wouldn't want to be a superhero? That is the question in this book. I really enjoy this rid that this book took you on. All of the twist and turns and all of the characters. The writing was magical and really easy to read. Some of the characters where funny. There is LGBTQIA+ in this book as well. I only know of 2 characters but there could be more but I am not sure.
I though I loved the The Lunar Chronicles a bunch but this book beats that series but a lot..
We have 2 sides in this the. We have the Renegades who are the superheros in this book and then we have the Anarchists who are the villains in this book. Our main villain is named Nova and she wants vengeance for one reason and one reason only.
But then Nova has to get close to the renegades and then she meets Adrian who is not all he turns out to be either. But of them have secrets and they both don't know who each other is.
Can Adrian and Nova trust each other or are they going to be against each other for the rest of there lives? when they know who each other is??? I guess we will find out in the second book or sometime soon I hope. because love is starting to form between the two of them
Now I need to get the second book so I can read it like soon.